Picnics in lav ender fields, gastronomic meals in vineyards and mountain walks in the footsteps of Cezanne … spend a weekend in Aix-en-Provence.
With world-famous art, food and wine and proximity to Marseille (30km away), it's easy to spend a weekend in the petite and beautiful town of Aix-en-Provence. Start your tour at La Rotonde fountain (1860) on the Cours Mirabeau. Window shop along the Cours Mirabeau and pitstop at Café le Grillon. Take a cooking class with a local chef that starts at the street market before heading to the kitchen! If you love art, visit Cézanne's studio, nestled on the Lauves hill, where he created dozens of masterpieces. Then hike through the Bibémus quarries with its ochre rocks and pine trees, inhaling the scents and marveling at the landscape, just as the artist himself did. The wonderful Musée Granet contains many Cézanne artworks, but also Rembrandt, Monet, Gauguin, Picasso.
Extend your art excursion in a biodynamic vineyard. At Château La Coste there are 30 a significant, site-specific contemporary artworks to enjoy between wine and food discoveries at their gastronomic restaurant by Michelin starred Hélène Darroze. Picnic in a lavender field at Terre Ugo, attend a soap-making workshop and take home some soothing lavender oil.
Aix markets (photos © Daniel Kapikian)
More to explore
Explore more vineyards in 18th century Provençal farmhouses and chateaux on the Provence Wine Route (routedesvinsdeprovence.com) that includes over 400 winemakers particularly known for their tasty rosés. Discover reds, whites, and rosés at Domaine Terre de Mistral, an oil mill and inn; Château Virant; in the Cheylan family for generations; or Château Vignelaure and its underground art gallery (with original works from César, Buffet, Cartier-Bresson, Arman, Lartigues, Miro and others) linking the old wine cellar with its casks dug out of stone to the new wine-ageing cellar. Before leaving town, pick up some gifts from one of the le Roy René confectionery stores - chocolates, nougat and traditional calisson sweets.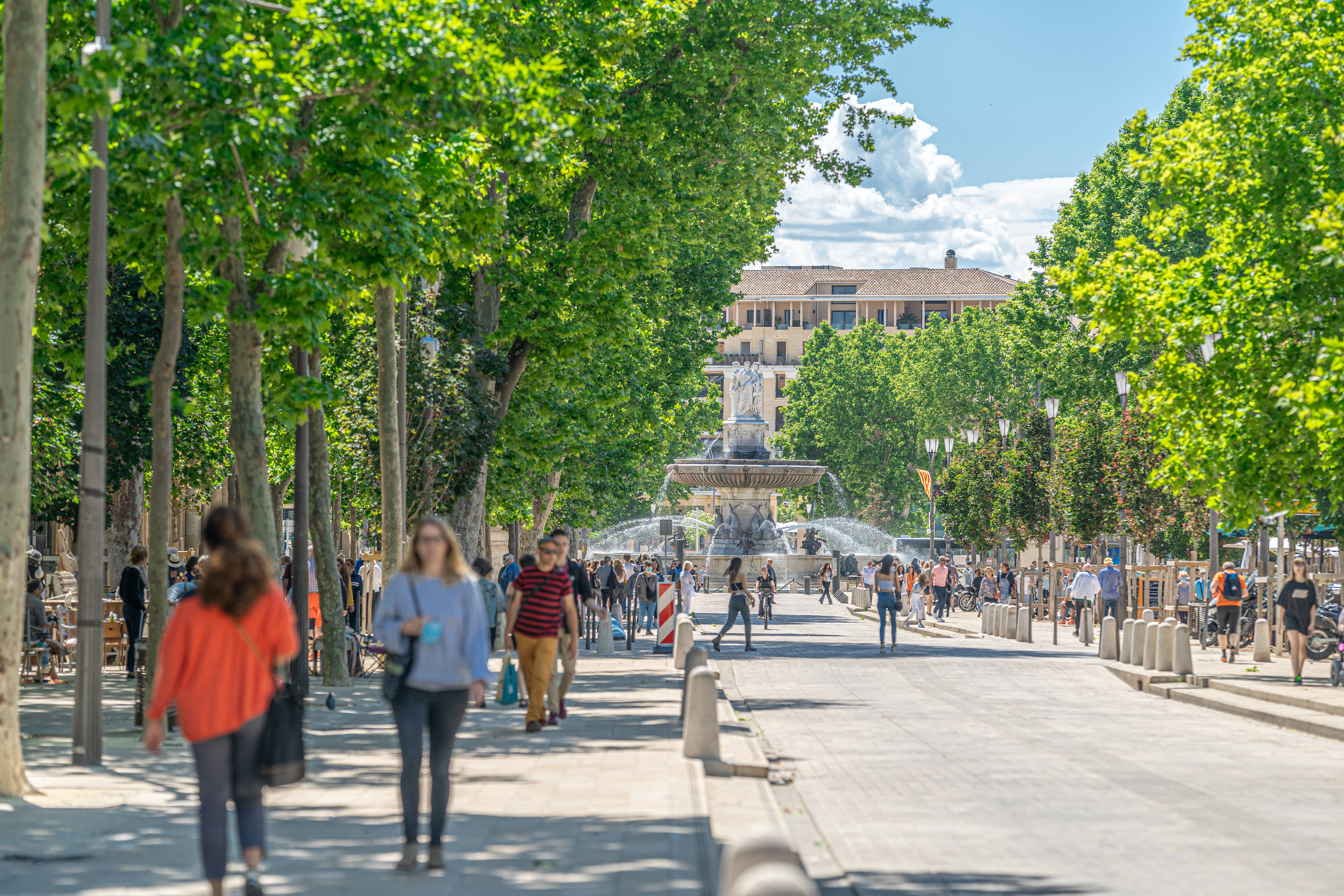 Cours Mirabeau (photo © Thomas Luppo)
Further Information
Office de Tourisme d'Aix-en-Provence
travel.aixenprovencetourism (External link)
Discover our Explore France magazine 2023 and download it
[
(https://v3au.zone-secure.net/drive/7150/1688689/#page=1 (External link) )]