Castillon – Côtes de Bordeaux is a far cry from Sydney's La Croix Café in Inner-City Potts Point where former co-owner Glenda Kalyk and her partner Frank are now shaking things up in the winemaking world.
Back in 2014, they became the proud owners of Château Picoron and 4.5 hectares of merlot vines on the limestone and clay ridge next to Saint-Émilion. Established in 1570 by the Picoron family, the estate now embodies what the Kalyks love most in life, and in France: growing sustainable produce using organic practices, cultivating mostly the grape variety merlot. Organic conversion is underway. "Château Picoron has created seven expressions of the merlot grape, all fresh and innovative takes on ancient traditions," says Glenda. "In a region-first, we've created white, carbonic, Pét-Nat, and rosé, all with the merlot grape." Classic award-winning red wines in the ancestral style are also part of the production mix.
Making the most of this exceptional terroir (photo © Picoron Wines)
Less is more
Picoron's philosophy for making its wines is 'less is more'. "It's about fewer additives and interventions; fewer attempts to change what nature is."
The fermentation process is undertaken plot by plot – each parcel is treated uniquely, resulting in a clean expression of terroir. "We're talking a few hundred cases," she adds.
Glenda continues: "We want to share our love of wines with our friends and guests, honouring the estate's history and inspire next-generation wine drinkers with wines that are unique to that history and the terroir of Bordeaux."
Visitors can expect wine tastings before bottling, from barrels and vats with the Picoron wine team. They range from crisp lime zest, fresh melon, churned butter in its whites, to grapefruit rind; wildflowers for the rose, with the red wines, fresh wild cherry, luscious black berry and ripe dark fruits, leather, cigar and hint of vanilla. Some say Madagascan cocoa bean, red plums Tours of the vineyard are offered as well as of the wine-making cellar with Picoron's winemakers. Or pick up a picnic basket from the winery's in-house chefs.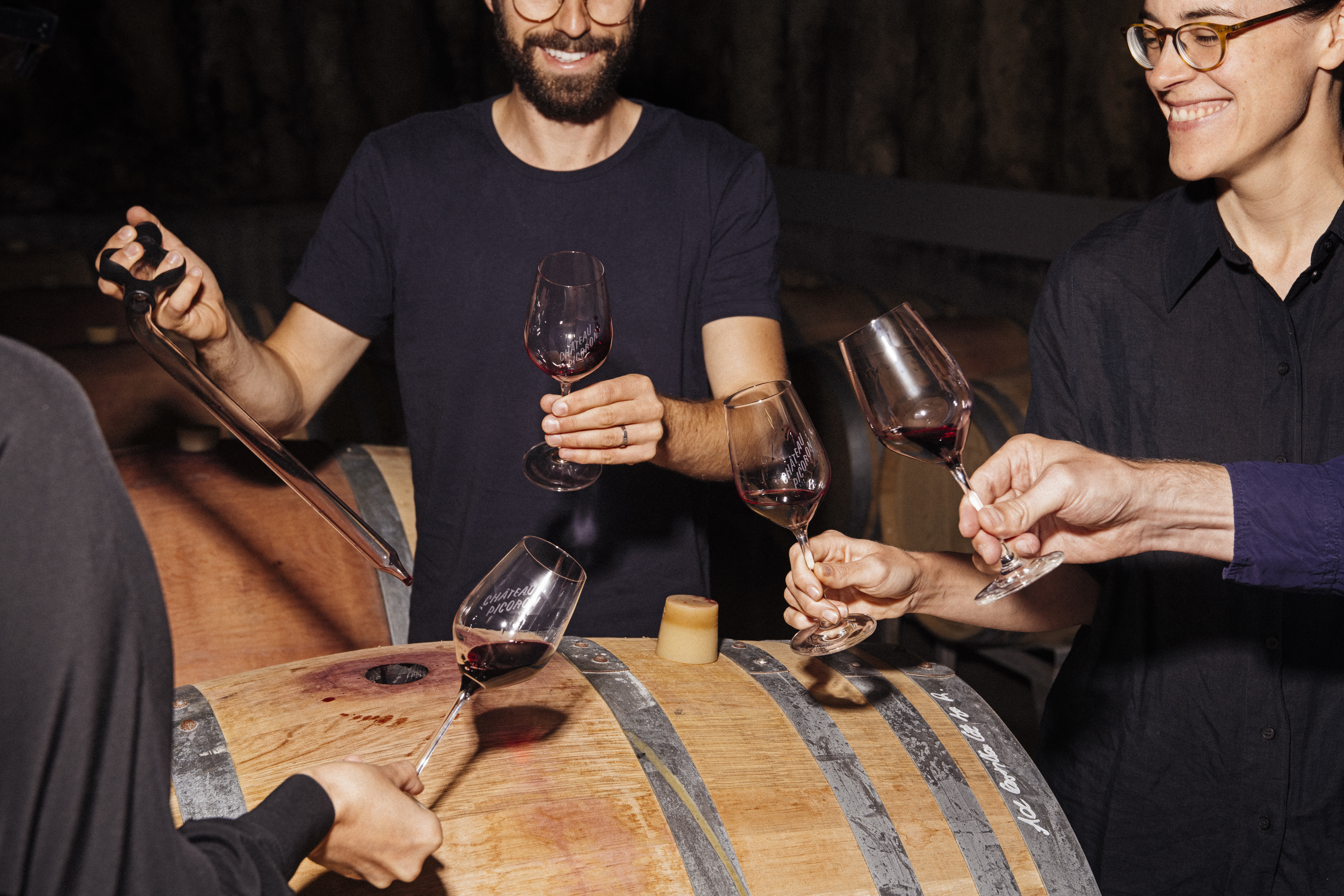 Visitors can expect wine tastings before bottling, from barrels and vats (photo © Picoron Wines)
Glenda and Frank enjoy having a drink with guests, overlooking the vineyard and the hills of guests, for our visitors and afterwards we encourage a walk through the forest, all without leaving the property." In the warmer months a refreshing swim in Château Picoron's 25-metre pool overlooking the grounds is a popular drawcard.
For those who wish to wander slightly further afield, Glenda and Frank encourage visitors to explore nearby vineyards as neighbours are equally welcoming. Their local friends and partners will arrange further wine tours, or rowing on the nearby Dordogne river. Or there's kayaking, tennis, and golf.
With wine label names that are mostly palindromes plus making merlot that's a little left field, Picoron Wines is building a solid following for being 'good, different' in Bordeaux.
Further Information
Picoron Wines
https://chateaupicoron.com (External link)
Discover our Explore France magazine 2023 and download it
[
(https://v3au.zone-secure.net/drive/7150/1688689/#page=1 (External link) )]